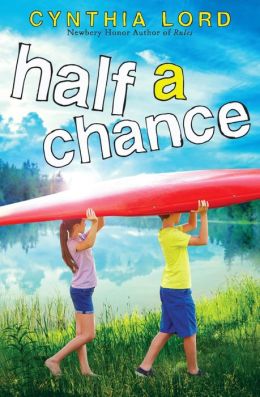 check the catalog here
When Lucy's family moves to an old house on a lake, Lucy tries to see her new home through her camera's lens, as her father has taught her -- he's a famous photographer, away on a shoot. Will her photos ever meet his high standards? When she discovers that he's judging a photo contest, Lucy decides to enter anonymously. She wants to find out if her eye for photography is really special -- or only good enough.
As she seeks out subjects for her photos, Lucy gets to know Nate, the boy next door. But slowly the camera reveals what Nate doesn't want to see: his grandmother's memory is slipping away, and with it much of what he cherishes about his summers on the lake. This summer, Nate will learn about the power of art to show truth. And Lucy will learn how beauty can change lives . . . including her own.
My thoughts: I really enjoyed this new middle grade novel by Newbery Honor author Cynthia Lord of
Rules
.
Lucy learns not just about photography this summer, but learns about caring for her environment when the neighbors invite her to join their loon patrol. Lucy finds a friend in Nate, next door, but also has to deal with a another friend's jealousy when Nate begins to pay attention to her. Themes of friendship, caring for your world, and dealing with aging and parents that must travel for work are all explored in a realistic way. Two thumbs up for this book!