Well, here they are - the books that knocked our socks off in 2013! This year's selections were chosen by Claire Talbot, Stephanie Cervantes, and Cathy Henderson. Let us know what you think of our picks! Hopefully, something in our choices will appeal to you, too.
Best Historical Fiction: Out of the Easy by Ruta Sepetys
check the catalog here
A great story set in 1950's French Quarter New Orleans, with characters that you will care about!
Claire Talbot
Best Teen Romance: Eleanor & Park by Rainbow Rowell
check catalog here
A heartbreaking portrayal of the joy of first love, set in the 1980's.
Claire Talbot & Stephanie Cervantes
Best Sci-Fi: The 5th Wave by Rick Yancey
check the catalog here
A roller coaster ride that will suck you right in. A sort of "Walking Dead" only with aliens.
Stephanie Cervantes
Best Mystery: All the Truth That's In Me by Julie Berry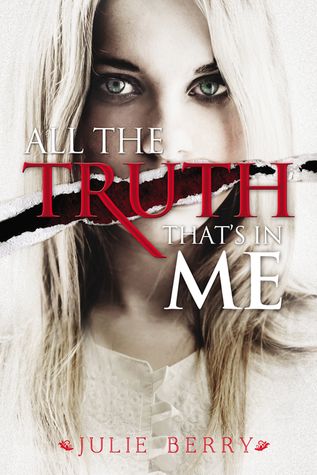 check the catalog here
Two girls disappear from their village - and only one returns, unable to speak. What happened? Riveting!
Claire Talbot
Best Humor: OCD, The Dude, and Me by Lauren Roedy Vaughn
check the catalog here
Okay, this book seriously cracked me up! There was something about Danielle that I just loved. She was so different and strange, and her perspectives on life were just outright hilarious and endearing. She was so funny without intending to be, but just the way she viewed things was so honest and blunt that I was laughing out loud by page seven. Stephanie Cervantes
Best Fantasy Book: Midwinter Blood by Marcus Sedgwick
check the catalog here
Seven stories of passion and love separated by centuries but mysteriously intertwined—this is a tale of horror and beauty, tenderness and sacrifice.An archaeologist who unearths a mysterious artifact, an airman who finds himself far from home, a painter, a ghost, a vampire, and a Viking: the seven stories in this compelling novel all take place on the remote Scandinavian island of Blessed where a curiously powerful plant that resembles a dragon grows. Claire Talbot
Best Sequel: Champion by Marie Lu
check the catalog here
June and Day sacrificed so much for their Republic, and each other. The stunning conclusion to the trilogy.
Claire Talbot
Best Realistic Fiction: A Thousand Words by Jennifer Brown
check the catalog here
A timely YA contemporary novel about a sexting scandal and how it spiraled out of control. I loved that this novel showed how the scandal negatively affected so many people including Ashleigh, Kaleb, her parents, and their classmates. It seemed that no one was left untouched and unaffected, and in rare cases, this really can happen.
Stephanie Cervantes
Best books for Middle School Readers: Tie! Never Say Die by Will Hobbs and Turn Left at the Cow by Lisa Bullard
check catalog here
check catalog here
Never Say Die is an action packed survival story. Fifteen year old Nick and his brother Ryan encounter a "grolar" bear - a mutant bear that is part grizzly and part polar bear in the Alaskan wilderness.
Turn Left at the Cow is a story of thirteen year old Trav, who is in search of information about his dead father. He travels from California to rural Minnesota and stumbles upon a bank robbery mystery as well.
Cathy Henderson
Best Book on Tough Topics: Forgive Me, Leonard Peacock by Matthew Quick
check the catalog here
I'd definitely recommend this one for contemporary YA fans who enjoy books that tackle big, scary issues. I also must mention that Matthew Quick is the author of Silver Linings Playbook, one of my favorite movies and a book that I am dying to read!
Stephanie Cervantes
Best Fun Spy book: Palace of Spies by Sarah Zettel
check the catalog here
A warning to all young ladies of delicate breeding who wish to embark upon lives of adventure: Don't. Peggy Fitzroy impersonates Lady Francesca in the court of King George the first and embarks upon a life of intrigue. A thoroughly enjoyable historic mystery.
Claire Talbot
Best Paranormal Romance: Revel by Maurissa Guibord
check the catalog here
Seventeen-year-old Delia grew up in Kansas, but comes to Trespass Island off the coast of Maine to find family after her mother suddenly dies. She finds love, but also a lot of secrets, including frightening supernatural sea creatures that have ties to Ancient Greece.
Claire Talbot
Best Non-Fiction: Top Ten Everything in Sports and Humans of New York by Brandon Stanton
check the catalog here
Great photos, and fun facts by the folks at Sports Illustrated for kids.
check the catalog here
In the summer of 2010, photographer Brandon Stanton set out on an ambitious project: to single-handedly create a photographic census of New York City. Armed with his camera, he began crisscrossing the city, covering thousands of miles on foot, all in an attempt to capture New Yorkers and their stories. The result of these efforts was a vibrant blog he called "Humans of New York," in which his photos were featured alongside quotes and anecdotes. This book is found in the adult section, but I think Teens will thoroughly enjoy it!
Claire Talbot