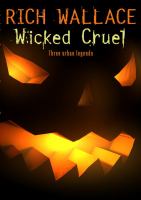 check the catalog here
A trio of spooky urban legends sure to send shivers down your spine! A perfect pick for Halloween!
Have you ever heard an urban legend? Sometimes scary, sometimes creepy, sometimes plain unbelievable, urban legends are stories that get told over and over. You never know how much of the story is true and how much is rumor.
The three stories in this book take place in a New England town steeped in legend, from the eighteenth-century cemeteries to the old roads that wind through the woods but go nowhere. In "The Horses of Brickyard Pond" and "Rites of Passage", two boys are about to find out how much truth there is in the ghostly lore of their historic town. In "Wicked Cruel", sixth grader Jordan finds himself in the middle of an urban legend of his own when he thinks he sees ---and soon hears from---a former classmate who moved away after being a bullied loner for years. The weird part? Rumor has it the kid died after he left town--as a result of all the shoves and punches he took.
Spooky and thought-provoking, these stories explore urban legends from all angles and are perfect for shivery autumn nights!