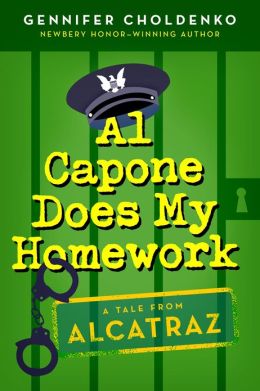 Check the catalog here
Summary:
Alcatraz Island in the 1930s isn't the most normal place to grow up, but it's home for Moose Flanagan, his autistic sister, Natalie, and all the families of the guards. When Moose's dad gets promoted to Associate Warden, despite being an unlikely candidate, it's a big deal. But the cons have a point system for targeting prison employees, and his dad is now in serious danger. After a fire starts in the Flanagan's apartment, Natalie is blamed, and Moose bands with the other kids to track down the possible arsonist. Then Moose gets a cryptic note from the notorious Al Capone himself. Is Capone trying to protect Moose's dad too? If Moose can't figure out what Capone's note means, it may be too late.

The last heart-pounding installment in the New York Times bestselling, Newbery Honor-winning Alcatraz trilogy is not to be missed! Not up to date in the trilogy? Check out the first two books:
check the catalog here
Today I moved to a twelve-acre rock covered with cement, topped with bird turd and surrounded by water. I'm not the only kid who lives here. There's my sister, Natalie, except she doesn't count. And there are twenty-three other kids who live on the island because their dads work as guards or cook's or doctors or electricians for the prison, like my dad does. Plus, there are a ton of murderers, rapists, hit men, con men, stickup men, embezzlers, connivers, burglars, kidnappers and maybe even an innocent man or two, though I doubt it. The convicts we have are the kind other prisons don't want. I never knew prisons could be picky, but I guess they can. You get to Alcatraz by being the worst of the worst. Unless you're me. I came here because my mother said I had to.


check the catalog here
Moose and the cons are about to get a lot closer in this much-anticipated sequel.

It's 1935. Moose Flanagan lives on Alcatraz with his family, the other families of the guards, and a few hundred no-name hit men, con men, mad dog murderers and a handful of bank robbers too. And one of those cons has just done him a big favor.

You see, Moose has never met Al Capone, but a few weeks ago Moose wrote a letter to him asking him to use his influence to get his sister, Natalie, into a school she desperately needs in San Francisco. After Natalie got accepted, a note appeared in Moose's freshly laundered shirt that said: Done.

As this book begins, Moose discovers a new note. This one says: Your turn. Is it really from Capone? What does it mean? Moose can't risk anything that might get his dad fired. But how can he ignore Al Capone?