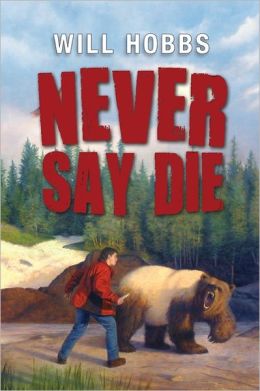 check the catalog here
From Goodreads.com:

When the motto of your village is "never say die," you have a lot to live up to. . . .

At home in Canada's Arctic, Nick Thrasher is an accomplished Inuit hunter at fifteen. About to bring home a caribou for his ailing grandfather, Nick loses the meat to a fearsome creature never before seen in the wild. It's half grizzly, half polar bear. Experts will soon be calling it a "grolar bear."

Returning to his village, Nick receives a letter from the half brother he's never met. A former Grand Canyon river guide, Ryan Powers is now a famous wildlife photographer. He'll soon be coming to Nick's part of the world to raft the remote Firth River in search of huge herds of migrating caribou. Ryan also wants to learn what Inuit hunters are saying about climate change in the Arctic. He invites Nick to come along and help him find the caribou.

Barely down the river, disaster strikes. Nick and Ryan are both thrown into the freezing river and find themselves under a ceiling of solid ice. With nothing but the clothes on his back and the knife on his hip, Nick is up against it in a world of wolves, caribou, and grizzlies. All the while, the monstrous grolar bear stalks the land.
If you enjoyed Hatchet by Gary Paulsen, then try reading some of Will Hobbs books.
WILL HOBBS is the author of eighteen exciting outdoor adventure novels for upper elementary, middle school and young adult readers, as well as two picture book stories. Seven of his novels have been named Best Books for Young Adults by the American Library Association, and Ghost Canoe, Will's first mystery, won the Edgar Allan Poe national award for Best Young Adult Mystery. The ALA's list of the "100 Best Young Adult Books of the 20th Century" includes two of Will's titles: Far North and Downriver.
A graduate of Stanford University and a former reading and language arts teacher, Will lives with his wife, Jean, in Durango, Colorado. Visit Will's website at www.willhobbsauthor.com .