My Top 10 Reads of 2012
Well, I fell short of my goal to read 100 books in 2012. I think starting graduate school took my time than I anticipated! As of today, I have read 65 books - and there were many that I really enjoyed, and I'll share some of my favorites with you. If you like reading lists of good books, here is a link to the Kirkus list of the top 100 teen titles for 2012:
http://www.kirkusreviews.com/issue/2012-best-of/section/teen/
Happy Reading!
Favorite non fiction:
Lincoln's Last Days - an adapted version of Bill O'Reilly's Killing Lincoln for teens.
click here for catalog access
An excellent adaptation of the shocking assasination that changed the face of our nation. This version includes many interesting photographs and drawings of Lincoln and his family.
"Lincoln's inaugural speech is a performance worthy of a great dramatic actor. And indeed, one of America's most famous actors stands just yards away as the president speaks. Twenty-six-year-old John Wilkes Booth is inspired by the president's words—though not in the way Lincoln intends.
The president has ambitious plans for his second term in office. Ending the war and healing the war-torn nation are Lincoln's overriding ambitions. He will use every last bit of his trademark determination to see these goals realized; nothing must stand in his way.
But evil knows no boundaries. And a most powerful evil—in the person of John Wilkes Booth and his fellow conspirators—is now focused on Abraham Lincoln."
Reprinted from "Lincoln's Last Days" by Bill O'Reilly and Dwight Jon Zimmerman © 2012 by Bill O'Reilly. Used with permission of the publisher, Henry Holt and Company, a division of Macmillan
.
Historical Fiction: Code Name Verity by Elizabeth Wein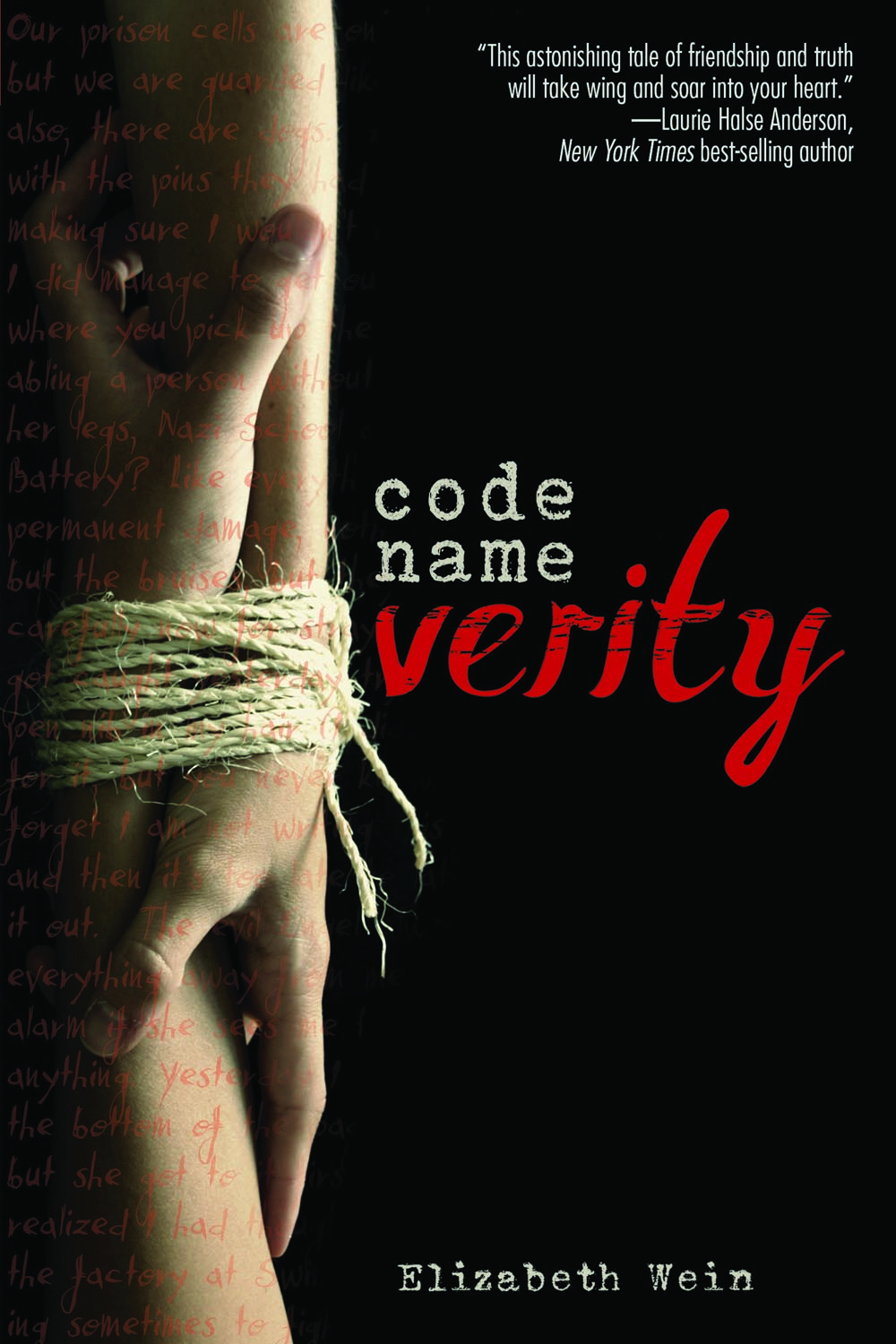 click here for catalog access
Oct. 11th, 1943—A British spy plane crashes in Nazi-occupied France. Its pilot and passenger are best friends. One of the girls has a chance at survival. The other has lost the game before it's barely begun.

When "Verity" is arrested by the Gestapo, she's sure she doesn't stand a chance. As a secret agent captured in enemy territory, she's living a spy's worst nightmare. Her Nazi interrogators give her a simple choice: reveal her mission or face a grisly execution.

As she intricately weaves her confession, Verity uncovers her past, how she became friends with the pilot Maddie, and why she left Maddie in the wrecked fuselage of their plane. On each new scrap of paper, Verity battles for her life, confronting her views on courage and failure and her desperate hope to make it home. But will trading her secrets be enough to save her from the enemy?
A memorable story of war and friendship that stayed with me!
Favorite Realistic Teen Fiction: The Fault in Our Stars by John Green
click here for catalog access
Amazon.com Review
Amazon Best Books of the Month, January 2012
: In
The Fault in Our Stars
, John Green has created a soulful novel that tackles big subjects--life, death, love--with the perfect blend of levity and heart-swelling emotion. Hazel is sixteen, with terminal cancer, when she meets Augustus at her kids-with-cancer support group. The two are kindred spirits, sharing an irreverent sense of humor and immense charm, and watching them fall in love even as they face universal questions of the human condition--How will I be remembered? Does my life, and will my death, have meaning?--has a raw honesty that is deeply moving.
--Seira Wilson
Favorite Romance: Bittersweet by Sarah Ockler
click here for catalog access
Once upon a time, Hudson knew exactly what her future looked like. Then a betrayal changed her life, and knocked her dreams to the ground. Now she's a girl who doesn't believe in second chances... a girl who stays under the radar by baking cupcakes at her mom's diner and obsessing over what might have been.

So when things start looking up and she has another shot at her dreams, Hudson is equal parts hopeful and terrified. Of course, this is also the moment a cute, sweet guy walks into her life... and starts serving up some seriously mixed signals. She's got a lot on her plate, and for a girl who's been burned before, risking it all is easier said than done.

It's time for Hudson to ask herself what she really wants, and how much she's willing to sacrifice to get it. Because in a place where opportunities are fleeting, she knows this chance may very well be her last...

(from Goodreads)
Cupcakes? Love? set in our neighboring city of Buffalo, NY? What's not to like?
Favorite Sequel: Days of Blood and Starlight by Laini Taylor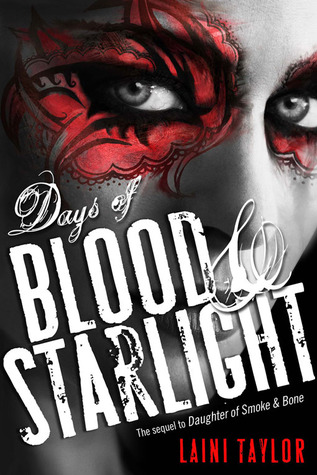 click here for catalog access
OK. I have a confession to make. I am getting a little tired of the "trilogy" that has become a standard in teen fiction, and the classic love triangle routine. I liked Days of Blood & Starlight because although very romantic in the first book,
Daughter of Smoke and Bone,
the second book describes the war, revenge, and angst that Karou feels since she has lost her family. She does annoy me at times with her reluctance to believe in Akiva, but not nearly as much as some other book characters in sequels I read this past year!
Favorite Cover Art: The Selection by Kiera Cass
click here for catalog access
I guess I am a sucker for a pretty dress - this is gorgeous. And the crown artwork? Perfect!
Favorite Dystopian Novel: Tie! for Article 5 by Kristen Simmons and Starters by Lissa Price
click here for catalog access
click here for catalog access
Article 5
New York, Los Angeles, and Washington, D.C., have been abandoned.
The Bill of Rights has been revoked and replaced with the Moral Statutes.
There are no more police—instead, there are soldiers. There are no more fines for bad behavior—instead, there are arrests, trials, and maybe worse. People who get arrested usually don't come back.
Seventeen-year-old Ember Miller is old enough to remember that things weren't always this way. Living with her rebellious single mother, it's hard for her to forget that people weren't always arrested for reading the wrong books or staying out after dark. That life in the United States used to be different.
Ember has perfected the art of keeping a low profile. She knows how to get the things she needs, like food stamps and hand-me-down clothes, and how to pass the random home inspections by the military. Her life is as close to peaceful as circumstances allow.
That is, until her mother is arrested for noncompliance with Article 5 of the Moral Statutes. And one of the arresting officers is none other than Chase Jennings…the only boy Ember has ever loved.
From Amazon.com
Starters
Following the Spore Wars, 16-year-old Callie struggles to carve an existence for herself and her younger brother, Tyler, in a California where everyone between the ages of 20 and 60 has perished. Although many in this near-future society eke out meager, hopeless existences, an elderly, wealthy Beverly Hills population and their grandchildren continue their lavish lifestyles. Medical advances ensure that entitled adults live beyond the century mark, creating a self-absorbed, controlling "Ender"class. Too young to work, Callie is a "Starter" on the run, in constant danger of arrest by the marshals and attack by renegades. Adding to her desperation is Tyler's rare lung disorder, making finding a stable home environment imperative. Unable to legally earn money, Callie registers with Prime Destinations, a clandestine service where Enders can re-experience youth by renting the bodies of teenage Starters via brain implants and computer interfaces. Although Callie's instincts scream danger, several rentals of her body proceed smoothly. But a malfunction during a third rental causes Callie to regain consciousness while being inhabited, immersing her in the lives of the rich and powerful, providing a love interest, and propelling her to the center of the sinister schemes unfolding at Prime Destinations.
From Amazon.com
Favorite Book for Middle School: The One and Only Ivan by Katherine Applegate
click for catalog access here
The One and Only Ivan is a story about a silverback gorilla who has spent almost his entire life in a small mall circus, with a handful of other captive animals for friends. He has suppressed his memories of his real family and life in the jungle. He does have an unusual talent - expressing himself through art, and his pictures are sold in a mall gift store. When a baby elephant is brought to the menagerie to live, Ivan decides it is time to become the silverback he was meant to be, and uses his creativity to obtain a better life for his new friend. Although I recommend this book for middle schoolers, animal lovers of all ages will love Ivan. What makes it even better is Ivan is based on a true story!
Favorite Mystery: The Storyteller by Antonia Michaelis
click here for catalog access
Anna and Abel couldn't be more different. They are both seventeen and in their last year of school, but while Anna lives in a nice old town house and comes from a well-to-do family, Abel, the school drug dealer, lives in a big, prisonlike tower block at the edge of town. Anna is afraid of him until she realizes that he is caring for his six-year-old sister on his own. Fascinated, Anna follows the two and listens as Abel tells little Micha the story of a tiny queen assailed by dark forces. It's a beautiful fairy tale that Anna comes to see has a basis in reality. Abel is in real danger of losing Micha to their abusive father and to his own inability to make ends meet. Anna gradually falls in love with Abel, but when his "enemies" begin to turn up dead, she fears she has fallen for a murderer. Has she?
From Amazon.com
Favorite Adult Books I read that might appeal to Teens:
click here for catalog Access
click here for catalog access