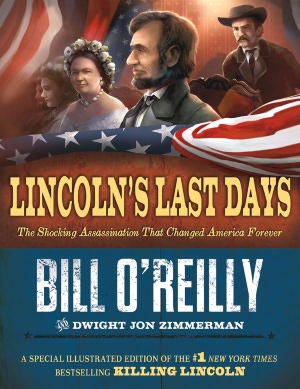 Lincoln's Last Days by Bill O'Reilly (special teen edition of the best seller Killing Lincoln)
Wow - if you are a history lover, particularly enjoying the Civil War era, please read this book - you won't be sorry!
Lincoln's Last Days
is an illustrated adaptation of Bill O'Reilly's bestselling
Killing Lincoln
, a #1 book on the New York Times bestseller list. The book reads more like a thriller, and not like a history text book. It starts at the end of the war detailing the last battles, Lee's surrender, Lincoln's jubilation over a Union victory and reunification, and the mentality and scheming of John Wilkes Booth. Even though the story took place 140 years ago, and I have studied these facts in both high school and college, this book made me see the sequence of events in a new way. This version also contains many photographs and illustrations that add to the book - including the reward poster for Booth and his cronies. At the end of the book is a timeline for both Abraham Lincoln and John Wilkes Booth, as well as twenty important and interesting facts about the Civil War.